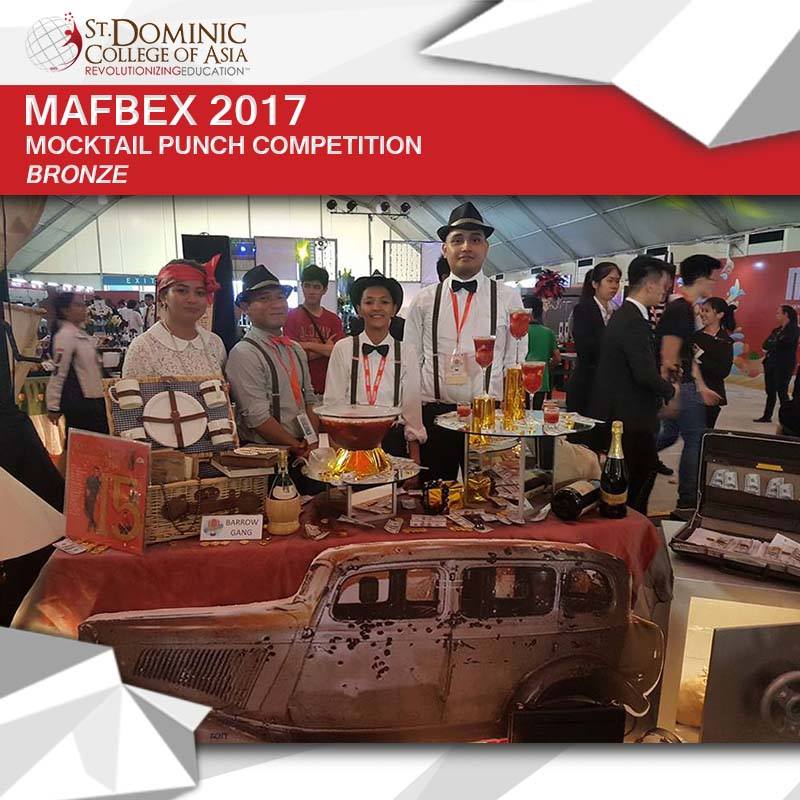 St. Dominic College of Asia gained various awards in the 49th Young Hoteliers' Exposition of the 11th MANILA FOOD AND BEVERAGES EXPOSITION (MAFBEX), held at the Philippine World Trade Center, on June 14-18.
Selected students from the Hospitality Management and Workskills International courses, under the School of Hospitality and Tourism Management (SIHTM), showcased their skills in the competition's 5 Categories: Table Set-Up and Napkin Folding competition, Mocktail Punch competition, Cake Decorating competition, Market Basket competition, and Clash of Kitchens.
The Champions in the Table Set-Up and Napkin Folding competition were James Carl R. Del Mundo, Giana Ray D. Barrios, Elisha Joyce DA. Ramos, and Cornelio P. Aguilar Jr., mentored by TECHVOC Officer and OIC Dean Melbert V. Animas.
Meanwhile, Kenneth A. Estolano, Francis Erick Delos Santos, Roselyn B. Tuico won Bronze in the Mocktail Punch Competition, accompanied by their coaches Prof. Christian O. Sidiangco and Mr. Rolando S. Poblete.
Joy-Mae C. Masicampo, Irene M. Moreno, Danica A. Padua, Hollygain S. Monterey and Marilou S. Aranzazu jointed the Cake Decorating competition under the guidance of their mentor, OIC Dean and HM Program Chair Jennefer Y. Yap. Junee Bonifacio, Earl Sabido, and Eliza Cruz competed for Market Basket competition, while Ivan Anjelo V. Panzo, August A. Abel, Kasmir Justine V. De Las Alas, and Joshua Shane P. Co entered the Clash of Kitchen segment. WSI Culinary Instructor, Chef Edgardo B. Encinas, mentored this teams for both categories.
A school-wide event, the Young Hoteliers' Exposition creates opportunities for aspiring hoteliers and restaurateurs to showcase their talents and skills in culinary arts, hospitality and the tourism industry. The theme for this year, Hollyfood: "Blazing and Stunning", intends to showcase the various Hollywood genres in the craft of this industry.